Europalso: promoting ESB in Greece
ESB's successful association with Europalso in Greece began more than five years ago.
Founded in 1956, Europalso is the Panhellenic Association of Greek Language School Owners. It acts as an organisation for testing English Language as well as a membership body. It is currently the largest certified organisation of foreign language centres in Greece, with 2,800 members and collaborating centres, 20,000 employees and 300,000 students.
Europalso's President, George Zikopolous, who works tirelessly to promote language qualifications at conferences and events across the country, says: "Every year, over 17,000 students in language schools across Greece sit our ESB ESOL International assessments. Our learners are assessed in two examination sittings in Summer and Winter. Some of our largest centres are in Athens, Thessaloniki and Larissa.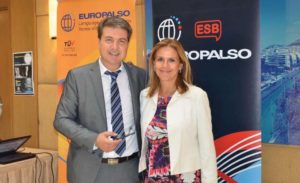 Each year we offer to our members 340 hours of training plus additional seminars in Athens and the regions. We hold a Europalso conference every August and we also organise lectures by leading university professors attracting more than 1,000 teachers and learners.
ESB's Chief Executive, Tina Renshaw, says: "As well as carrying out the marking and administration of assessments for Europalso, ESB provides training to teachers and assessment staff in Greece, and our team of experienced Senior Examiners regularly carry out inspections of assessments and oral exams in a variety of centres.
Working together with Europalso, we are continuing to extend our reach in Europe, supporting English proficiency in a long held market.

To find out more about Europalso, visit their website: https://www.europalso.gr/.
ESOL International International Language