ESB welcomes the Oracy All-Party Parliamentary Group's inquiry – Speak for Change.
May 22, 2019
English Speaking Board (International) Ltd. is supporting a new parliamentary inquiry Speak for Change, led by Emma Hardy MP, which is paving the way to improve oracy education in schools.
*The Oracy All-Party Parliamentary Group (APPG) doesn't currently exist while Parliament is dissolved ahead of the General Election, and therefore is not undertaking any activity at present. We expect the Oracy APPG to be back up and running along with the #SpeakForChange Inquiry following the Election.
As a member of The Oracy Network, ESB is proud to be part of a movement championing the value of good speaking and listening skills and the need for oracy to be reflected in educational policy making and curriculum development.
There is a rapidly growing recognition of the importance of teaching children and young people to speak effectively and with confidence, in order to aid their learning and prepare them for life beyond school.  The Speak for Change inquiry will investigate the current provision of oracy education in the UK, assess its value and impact, and identify the barriers teachers are facing in embedding and prioritising oracy in school.
An ESB team, led by Chief Examiner, Elaine Rudduck, attended the launch of the inquiry held in Parliament to speak to MPs and learners, and to meet with the Oracy Network to emphasise the importance of oracy for improving social mobility and job prospects for young people.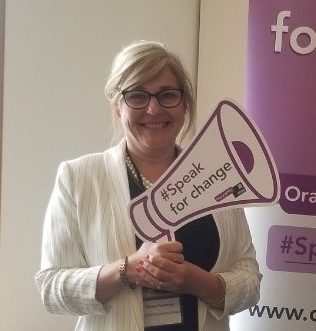 "Our qualifications develop confidence, improve communication skills, realise potential and recognise achievement with an accredited award, so we are incredibly proud to be part of the exciting conversations happening about oracy through The Oracy Network." said Elaine.
"It's fantastic to see that oracy is starting to be recognised as a priority in education."

ESB's primary objective is to promote clear communication across society – stretching the most able and supporting the least confident. Many of ESB's Speech assessments are carried out in supportive listening groups, allow learners to choose study pathways which reflect their interests and strengths, and are designed to empower and support them as they find their voice. ESB shares the Oracy APPG's vision to improve everyone's ability to articulate their ideas, thereby creating greater opportunities for social mobility.
One of the MPs at the launch was Tracy Brabin MP who said:
Tracy Brabin MP

I've seen first-hand the need for teaching oracy in schools. Many of the pupils in my Batley and Spen constituency have the academic skills but lack those key communication skills to help them progress, particularly as they apply to their chosen colleges or universities.
MPs who are members of the Oracy APPG are calling on the education sector to have their say and submit evidence. The Oracy APPG need help to promote the inquiry to ensure they gather a wide range of views from across society and highlight how important oracy is for the next generation.
A call for evidence is now open and the inquiry will welcome written and video submissions from across the education sector, industry and civil society. Most importantly, it will ensure the views of teachers, parents, children and young people are represented.
If you feel passionately about oracy in your centre, or know someone in your network who does, please contact Deborah Bassett on deborah.bassett@esbuk.org to help spread the word and Speak for Change.
Thanks Oracy Network for supporting our inquiry launch in Parliament today @theESU @ESBUK @articulacyuk @OracyCambridge @Comm_nTrust @Debate_Mate @ElklanTraining @ICAN_UK @NAPLIC @Literacy_Trust @noisyclassroom @SAPERE_P4C @talkthetalkUK @Trivium21c @SpeakersTrust @voice21oracy pic.twitter.com/tCzrPgK7Ux

— Oracy APPG (@AppgOracy) May 20, 2019
Employability Oracy Social Mobility Speech