In the spotlight: Brushstrokes Community Project
Feb 1, 2016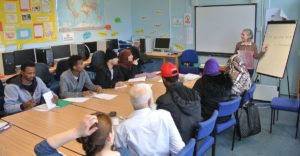 Hundreds of schools, colleges, training centres, universities and prisons deliver ESB qualifications throughout the year. We want to highlight the incredible work our centres do by putting them 'In the Spotlight' on our website.
The centre we are going to feature this month is the Brushstrokes Community project in Smethwick. Jane Alsop, Brushstrokes ESOL Coordinator and Work Club Facilitator told us about the invaluable work that the centre does.
Brushstrokes is a partnership project between Father Hudson's Care, Infant Jesus Sisters and the Parish of St Philip Neri. Based in a parish centre in Smethwick we first opened our doors in 2000 with the aim of seeking out and helping the hidden poor in the area.

Initially engaging with asylum seekers, the people coming to Brushstrokes have increased in number and diversity; over the past 15 years we have welcomed people from over 100 countries. We provide practical resources to destitute and homeless people and those living in extreme poverty, including food, baby products, clothing and other essential items.

Volunteers visit and befriend isolated people in their own homes and we also welcome people to a community café once a week.

ESOL classes are another big part of what we do. Since government funding cuts to FE, which has seen ESOL provision be reduced drastically, we have seen a huge increase in numbers coming to Brushstrokes to learn English. Over the past four years we have averaged 150 students a year. Since September 2015 we have already had 179 learners. As ESOL Coordinator, I manage a team of committed and experienced volunteer teachers without whom we simply could not meet the need of so many. The largest percentage of learners are at Pre-Entry level with many people unable to read and write in their own language. We have a nucleus of learners who stay with us and progress through the levels and others, mainly asylum seekers, who stay a short time before getting leave to remain and relocating.

In 2013, we had a lot of enquiries from women with babies or pre-school children. Mums were desperate to learn English but there was nowhere in the area offering childcare. I set up a small family learning class in a room which had been used as a créche. In the beginning it was noisy, chaotic and disruptive but gradually the children settled and the mums began learning English. There are still lessons which dissolve into chaos but I've learnt to use everything that happens as a means for learning the language.

Since the classes began eight mums have taken ESB exams at Pre-Entry and Entry 1. As children go to nursery, mums move into other classes and new mums take their place. Two students are now working towards their Entry 2 exams at the end of this year.

Through ESB ESOL exams, which we began in 2013, many students have achieved in learning for the first time in their lives. For someone who has never been to school, receiving a certificate for learning is an enormous achievement. Initially some students, having never done an exam before were very scared but the ESB assessors are encouraging and friendly and students always come out smiling. When you hear laughter coming from the exam room you know your students will be relaxed and able to do their best. We are part funded by the Big Lottery and one of our outcomes is 50 exam achievements per year – ESB have made that target a positive experience for our students and volunteer teachers.

The most rewarding aspect of teaching ESOL at Brushstrokes is seeing people gain confidence in their ability to communicate. Student comments include 'now I can go to the doctor on my own,' and 'now I can talk to my children's teachers'. We have seen students go on to college, to university, find employment and become integrated and confident members of their community. An ESOL teacher is so much more than just a teacher.

Students ask for help with problems and issues in their lives; they tell us stories about their past, some of which are heartbreaking. Our relationship with students is built on mutual trust and respect. It's probably a cliché but the Brushstrokes community really is like a big family. One of my students recently introduced me to a member of her family, 'This is my friend, Jane', she said.