Royal recognition for Merriel Halsall-Williams' Cranmer Awards
Mar 27, 2019
ESB Trustee and Vice President, Merriel Halsall-Williams brushed shoulders with royalty when the Prince of Wales visited Lambeth Palace to present the Prayer Book Society's Cranmer Awards.
Merriel founded the annual competition for the Prayer Book Society in 1989 to introduce young people to the 1662 Book of Common Prayer, and to experience the magnitude of Thomas Cranmer's words through reading aloud.
His Royal Highness met the worthy winners to present their awards, after hearing them read their favourite passages from memory.  He has been a long-standing supporter of the competition, and says 'I believe the Prayer Book is a glorious part of every English-speaker's heritage.'
Merriel, who organised the competition, was delighted to again welcome the Prince of Wales to the event and says,
I'm so proud of the youngsters who showed passion and skill bringing Cranmer's words beautifully to life, and I'm overjoyed that Prince Charles was able to witness the magic of the event.
Merriel was recently awarded the prestigious Richard Ellis Award for her continuing outstanding dedication to the work of ESB.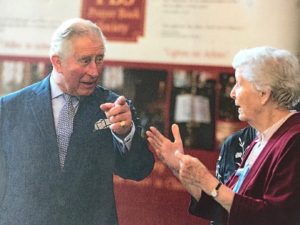 To read more about Prince Charles' appearance at the Cranmer Awards, please visit https://www.dailymail.co.uk/femail/article-6730091/Prince-Wales-presents-awards-calls-demonstration-pride-heritage.html
To find out more about the Prayer Book Society's Cranmer Awards, go to https://www.pbs.org.uk/competitions-bursaries/the-cranmer-award