Celebrating success! 2018 Young Speakers of the Year
Dec 6, 2018

English Speaking Board (International) Ltd. held its annual Young Speakers of the Year Showcase on Saturday, 17th November. Winners travelled from around the country to Liverpool to attend the celebration and receive their awards.

Out of 14,000 learners who took ESB Speech assessments in 2017-18, twelve were selected as winners in recognition of their outstanding oracy skills.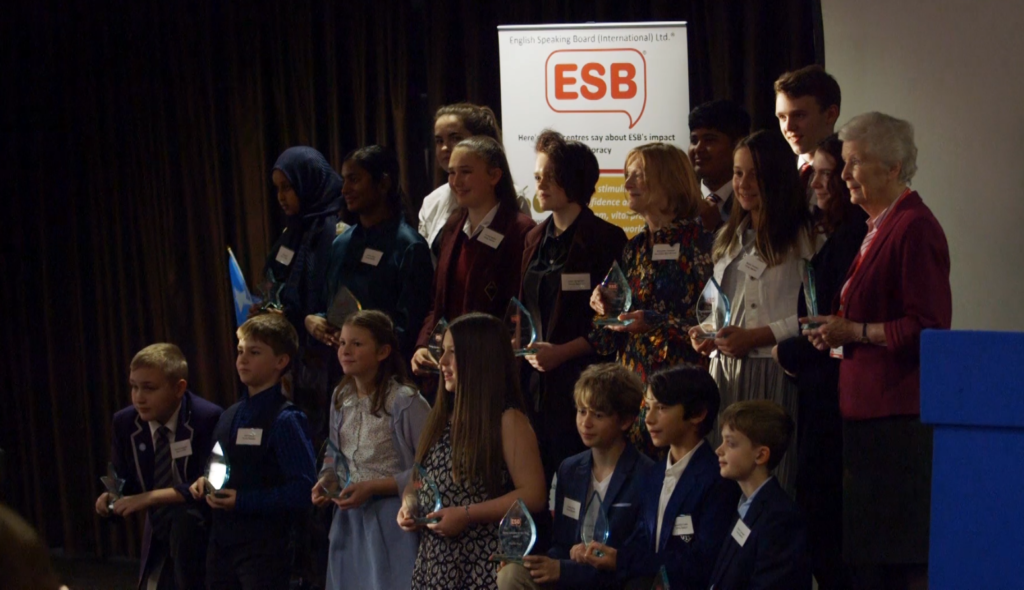 The 2018 Young Speakers of the Year are:
Ethan Campbell – Elmhurst School for Boys, London
Karris Holm – Bruton School for Girls, Bruton
Lilian Bingham – St Bede's & St Joseph's Catholic College, Bradford
Simran Sajan – Moreton Hall, Oswestry
Sebastian Clarke – Broomfield House School, Surrey
Charlie Cook – Hartismere School, Suffolk
Sam Colyer – Plymouth Grove Primary School, Manchester
Charlotte Scurr – Carleton House Prep School, Liverpool
Rosie Spence – Bricklehurst Manor School, East Sussex
Alice Beveridge – Westholme School, Blackburn
Hannah McKee – Bolton School, Bolton
Sophie Norman – Epsom College, Surrey
The celebration featured three additional categories alongside the Young Speaker Awards. The 'Spirit of ESB' Awards recognise and encourage the potential of all learners, rewarding individuals who showed great promise in their assessments. The Burniston Bell Award recognises teachers who demonstrate exceptional commitment to teaching ESB in their centre. Finally, the prestigious Richard Ellis Award was introduced this year in honour of ESB's former Trustee, Richard, to reward an individual who has shown outstanding dedication to ESB.
The 2018 winners of the Spirit of ESB Award are:
Charlie Campbell – Thistley Hough Academy, Stoke
Safa Said – Sir William Burrough Primary School, London
The 2018 winner of the Burniston Bell Award is:
Christine Faithfull – Teacher at Abbey Gate College, Chester
The 2018 winner of the Richard Ellis Award is:
Merriel Halsall-Williams
Each learner performed to an audience of family, friends and teachers, impressing everyone with their skills and abilities, and their charisma and confidence.
In recognition of her role as a student, teacher, examiner, International Director, Trustee, and Honorary Vice-President, Merriel Halsall-Williams was presented with the Richard Ellis Award for promoting the English Speaking Board's values.
ESB's Chief Executive, Tina Renshaw, says: "The standard from all candidates put forward this year was very impressive indeed. It is wonderful to reward their achievements and then share their passions at our annual Showcase."
Worthy winner, Karris Holm summed up the excitement of the day "I'd always been intimidated by public speaking, but this weekend has been really enjoyable – the lovely atmosphere at the event made the whole day a really positive exp­­­­erience!"­­­
Young Speaker of the Year https://t.co/ytVC1JvqZC

— SBSJ Catholic College (@sbsjcc) November 26, 2018
Sophie Norman in M4 got through to the finals of the English Speaking Board exam, held in Liverpool today. She was one of 14 winners out of 13,438 entries- an incredible achievement. We're all very proud! pic.twitter.com/8aPmD08mqr

— EpsomC_English (@EpsomC_English) November 17, 2018
Learning Oracy Social Mobility Speech