Celebrating Success! 2019 Young Speakers of the Year
Nov 20, 2019

English Speaking Board (International) Ltd. held its annual Young Speakers of the Year Showcase on Saturday, 16th November. Winners travelled from around the country to Liverpool to attend the celebration and receive their awards at the 'home of champions' Aintree Racecourse.

Out of 12,000 learners who took ESB Speech assessments in 2018-19, 10 were selected as winners in recognition of their outstanding oracy skills. The Young Speakers each performed a poem recital, prose reading or gave a talk to an audience of family, teachers and friends.

The 2019 ESB Young Speakers of the Year, pictured below with Chief Executive Tina Renshaw, are:
Alex lo Storto – Nottingham University Samworth Academy
Anagi Bartholomeuz – Formerly of Nottingham Girls' High School
Archie Colville – Kitebrook House, Gloucestershire
Ayesha Ahmed – Bolton School
Ellie-Rose Heimans – James Allen's Preparatory School
Flora Low – Formerly of St. Francis School, Wiltshire
Freddie van Daalen – Formerly of Magdalene House Preparatory School, Cambridgeshire
Maddie Exley – Wilmslow Preparatory School, Cheshire
Tom Lewis – Runnymede St Edwards School, Liverpool
'Jimmy' Shixiang Wang – Formerly of Sherborne International, Dorset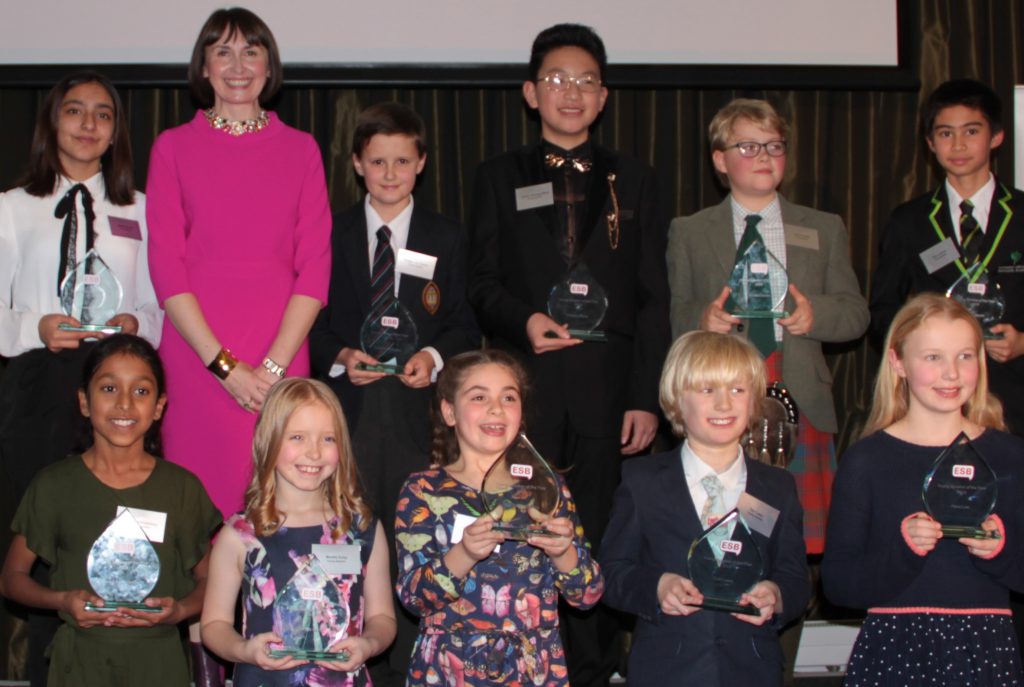 The celebration featured four additional categories alongside the Young Speaker Awards.
The 'Spirit of ESB' Awards recognise and encourage the potential of all learners, rewarding individuals who showed great promise in their assessments.
The 2019 winners of the Spirit of ESB Award, pictured below are:
Tim Ye – Plymouth Grove Primary School, Manchester
Guy Odams – Heathfield Community School, Somerset
Mason McNamara – Broadfields Primary School, London
Daniel Apetrei – Broadfields Primary School, London
Liam Hart – Broadfields Primary School, London
The Burniston Bell Award recognises teachers who demonstrate exceptional commitment to teaching ESB in their centre.
The 2019 winner of the Burniston Bell Award is:
Juliet Meighan – Associate Lecturer, Belfast Metropolitan College, Northern Ireland
The prestigious Richard Ellis Award was introduced in honour of ESB's former Trustee, Richard, to reward an individual who has shown outstanding dedication to ESB.
The 2019 winner of the Richard Ellis Award, pictured below is:
Georgina Marland – Assessor and Teacher of ESB
Finally, ESB chooses exceptional speakers to become Ambassadors. By representing ESB, they have the opportunity to inspire other learners and to promote ESB and its values. This year we have asked two former Young Speakers of the Year to accept the accolade.
Our 2019 Ambassadors, pictured below are:
Sam Colyer – Formerly of Plymouth Grove Primary School
Lilian Bingham – St Bede's and St Joseph's Catholic College
ESB's Chief Executive, Tina Renshaw, says:
"The standard from all candidates put forward this year was very impressive indeed. It is wonderful to reward their achievements and then share their passions at our annual Showcase."