ESB in action: students from Belfast raise money for Romania
Feb 1, 2016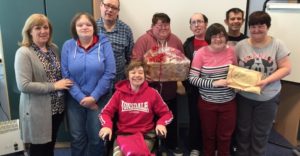 Students from Belfast Met have raised £150 for a church-based enterprise as part of their ESB Entry Level Award 'Developing Independent Communication Skills'.
The group auctioned a Valentine's Day hamper to raise much needed funds for the initiative which carries out valuable work in Romania. Course Administrator, Linda Clarke has close involvement with the charity and shared photographs and stories about the work the charity is doing to help children in a remote Romanian village to get an education.
Tutor, Ian Patterson uses such charity ventures as the means by which to meet the essential criteria of ESB's qualification specification.
He said:
Such activities provide great opportunities for group discussion thereby developing learners' speaking and listening skills. The students can further practise their telephone skills by making phone calls to charity organisers, gaining information and passing on short messages. Delivering ESB 'in context' provides a meaningful and enjoyable experience for the learner.
Belfast Met also offer ESB's employment qualification, Inspiring Confidence in Employability (ICE). Ian added:
The students who do ESB's ICE qualification are very proud of their portfolio of evidence to date and look forward to displaying their speaking and listening skills to the ESB assessors.