Reaching learners facing disadvantage
Oct 22, 2021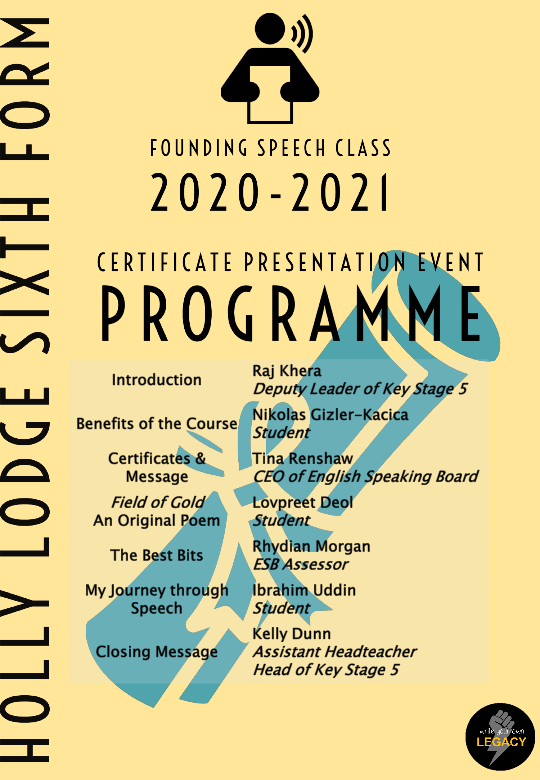 English Speaking Board witnesses first-hand the immeasurable impact that its assessments continue to have on learners at a recent ESB virtual Presentation Event.
As part of its 70/70 Campaign, ESB has enabled sixth form learners at Smethwick's Holly Lodge School in the Midlands to access its Level 3 Certificate in Speech (Grade 8) speech assessments, ultimately providing them with oracy skills to last them a lifetime!
The outstanding achievements of the school's learners were celebrated virtually with all learners being in attendance together with ESB's Chief Executive, Tina Renshaw; ESB Assessor, Rhydian Morgan; Holly Lodge Assistant Headteacher, Kelly Dunn and ESB Teacher and Deputy Leader of Key Stage 5, Raj Khera.
The engaging event featured two learners reflecting on their ESB journey and included one learner's recital of her original poem, 'Field of Gold'. There was also a congratulatory message from Tina, a review on the assessments by ESB's Assessor, Rhydian, and an emotional thanks to ESB from Assistant Headteacher at Holly Lodge, Kelly Dunn.
Watch the highlights video below!
ESB Learner expresses his thoughts about his ESB journey:
"ESB is the one thing that I enjoy most about being in Sixth Form. Completing it in a group setting has enabled me to make many friendships and my confidence has drastically developed. The idea of speaking in front of people can be a source of anxiety and fear but also something that constantly excites me. I went straight into my presentation and I enjoyed it. It wasn't like before when I had this sharp pain in my chest when I was asked to speak. It is now something I relish.
"It isn't just my speaking skills that have improved – it has benefited me in many ways. My writing skills have improved and my essays are now far more in depth. I am also far more critical about the things I read…and on the topic of reading …. I now enjoy it! I feel like the best way to end is by saying thank you to Miss Khera. She made speech as enjoyable as possible!"
The learners' experiences and achievement moved the senior teachers at their school due to the maturity, skills and character these young people demonstrated.
Holly Lodge's Assistant Headteacher, Kelly Dunn reflects on her pupils' achievements after completing ESB:
"Myself and Miss Khera are very proud of all of you. It is so amazing to see the support that you've all given each other. You've all blown us away. Thanks again to ESB!"
ESB's Chief Executive, Tina Renshaw says at the event:
"In preparing for and excelling at ESB, your school has created an experience for you which you will encounter throughout your studying and working lives. You're going to become familiar with unfamiliar information and vocabulary; you're going to present information succinctly and be able to select just the right words you need which puts across your message. You're going to be able to impart a perspective that has value to you, recall prepared information and listen to others to better understand and support them by listening openly and sharing ideas. What a range of skills that you have gone on to develop to the highest standards! Never lose sight of the aspirations of your learning, for yourselves, for your communities, and your lives which you spoke of in your assessment."
ESB's Assessor, Rhydian adds:
"One of the most important things about ESB is the confidence it builds in developing your voice, being able to use that voice and confidence throughout your lives. All learners at Holly Lodge shone in their assessments. Well done everybody!"
ESB's aim is to prepare today's learner for tomorrow's world through its assessments – particularly reaching out to those learners facing disadvantage. By improving the life chances of all learners to reach their maximum potential and by inspiring high-quality communication in people, ESB recognises the value of oracy as a vehicle for social mobility.
With many learners at the school facing disadvantage the proportion of disadvantaged pupils at Holly Lodge School is well above the national average as is the proportion of pupils from ethnic minority groups and those who speak English as an additional language.
Holly Lodge is just one of the schools that is using ESB to help its learners to possess the communication skills needed to achieve their aspirations, but ESB would like to help many more.
If you believe your learners or young people would benefit from an Oracy journey which includes ESB assessments, we would love to hear from you! Once you contact us you can also find out whether your centre is eligible for funding and support. Please email business@esbuk.org.
For further details about our 70/70 Campaign, please click here.