'Speaking up for speaking': ESB in Parliament
Jul 11, 2018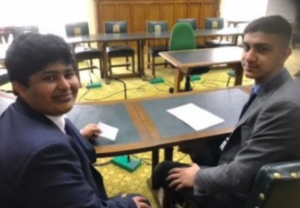 Tina Renshaw (Chief Executive), Alison Coates (Business Development Adviser), Pippa Quarrell (Chair), Richard Ellis (Honorary Treasurer) and Lulu Dale (Senior Examiner) were proud to participate in Emma Hardy MP's event, 'Speaking Up For Speaking' alongside Anthony David (Excecutive Head), Julia Ward (Articulacy) and other leaders in communication, to celebrate the value of oracy and its link with social mobility. Two former ESB learners, Hrishi Venkatesh (left) and Khurram Ishfaq (right) were chosen to represent ESB at Westminster on this auspicious occasion to share their own stories on the positive impact ESB qualifications had on their lives.
Said Hrishi:
I had an unparalleled sense of achievement with every qualification I got – it was a brilliant confidence boost for me.
Please click here to watch Hrishi's speech in full.
Following the great success of this event, Emma Hardy MP confirmed that she intends to form an oracy-focused All Party Parliamentary Group (APPG) in the coming months. We hope to be able to participate in this APPG and will continue our advocacy for Oracy skills for all learners.
Said Tina after the event, "It was a priviledge to participate in the groundbreaking dialogue in Parliament today. We are delighted that oracy is continuing to spark interest, and ESB fully supports Emma in her ambition to make it a focus in Parliamentary discussions."
Please go to https://www.tes.com/news/oracy-underdeveloped-skill-uk-heres-how-help-your-primary-class-speak to read more about the value of oracy.