Celebrating success at our Young Speakers of the Year Showcase
Nov 17, 2017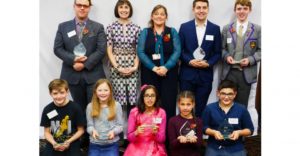 English Speaking Board (International) Ltd. held its annual Young Speakers of the Year Showcase on Saturday, 11th November. Winners travelled from around the country to Liverpool to attend the celebration and receive their awards.
Out of 15,000 students who took ESB Speech assessments across 2016/17, nine students were selected as winners in recognition for their outstanding spoken language skills.
The 2017 Young Speakers of the Year are:
Malayka Ali – Plymouth Grove Primary School, Manchester
Sacha Noursadeghi – Broomfield House School, Richmond
Mia Pitts – St Francis School, Pewsey
Morgan Robson – Ruthin School, Wales
Ameerah Saleem – Wilmslow Preparatory School, Cheshire
Bradley Tranter – Ellowes Hall Sports College, Dudley
Joey Webster – Liverpool College, Liverpool
Joseph Wright – The Chorister School,
Emma Young – Moreton Hall, Shropshire
The celebration featured two new award categories introduced this year. The Spirit of ESB awards recognise and encourage the potential of all learners, rewarding individuals who showed great promise in their assessments. Also introduced is the Burniston Bell Award, which recognises teachers demonstrating exceptional commitment to ESB.
The 2017 Spirit of ESB winners are:
Eloise Goddard – Calder House School, Bath
Sara Khan – Sir William Burrough Primary School, London
Liam Barlow – Oakhill Primary School, Stoke-on-Trent
The 2017 Burniston Bell Award winner is:
Sue Turford – former teacher at Concord College, Shropshire
Each student performed for an audience of family, friends and teachers, impressing everyone with their skills and abilities, and their charisma and confidence.
ESB's Chief Executive, Tina Renshaw, says: "ESB's mission is to extend communication skills, to offer opportunities to stretch the most able, and to support the least confident. We do this in a learner-focused way with our students choosing their own topics, poems and books. It is wonderful reward their achievements and then share their passions at our annual Showcase."
One of the winners, Sacha from Broomfield House School said after the ceremony, "I love performing and ESB has reinforced my enthusiasm for listening to, and delivering a good story. I thoroughly enjoyed the opportunity to read aloud my favourite passage from Charles Dickens' Great Expectations. It is a day I will never forget."
Another worthy winner, Mia Pitts from St Francis School said, "I am thrilled to receive this award, and to speak about my prized instrument, the piano accordion. It was a very special day for me and my family."