Celebrating success! Young Speaker of the Year 2016
Nov 1, 2016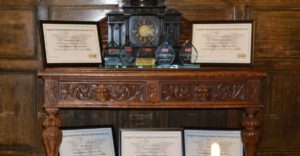 English Speaking Board International) Ltd. held its second Young Speaker of the Year awards on Saturday November 12. Winners travelled to The Old Palace in Worcester to attend the celebration and receive their prizes.
The five winners were selected from 14,000 youngsters who took ESB speech examinations in 2015/16.
The 2016 winners of English Speaking Board's Young Speaker of the Year were:
Gwendoline Hall – Red Maids' School, Bristol
Matthew Grayson – Wakefield Independent School, West Yorkshire
Eleanor Latham – Blessed Trinity RC Collage, Burnley
Katie Tarrant – Rainham Mark Grammar School, Kent
Harriet Lang – Moreton Hall School, Shropshire
Each student performed for an audience of family and friends during the celebration, impressing everyone with their skills and abilities, and their maturity and confidence.
ESB's Chief Executive, Tina Renshaw, says:
Our mission at English Speaking Board is to extend communication skills, to offer opportunities to excel and to inspire confidence. We do this in a learner centred way with our students choosing their own topics, poems and books. It is wonderful to hear of their success and then share their passions at Young Speaker of the Year.
Harriet Lang from Moreton Hall, said:
I've loved Shakespeare since I was 11 years old and I'm hoping to study English at Oxford. The ACLA (Advanced Certificate in Language Arts) allowed me to choose the topic closest to my heart, which gave me the freedom to explore Shakespeare even further. I relished the opportunity.
Matthew Grayson from Wakefield Independent School, focused his talk on his love of food. He said:
Back in May when I did my ESB assessment, the number one place I wanted to visit to experience its food was Copenhagen. This year, my parents took me for my thirteenth birthday so I was able to give an update during my speech at the ceremony.
The Young Speakers of the Year were joined on the day by the winner and runners up of our successful Sixty Second Shakespeare Competition. The national competition, held to celebrate Shakespeare's 400th anniversary, displayed the talents of pupils from across the country. They joined the Young Speakers in presenting their winning sonnets to family and friends.