Czech learners find their voice in first ESB assessment
Feb 22, 2019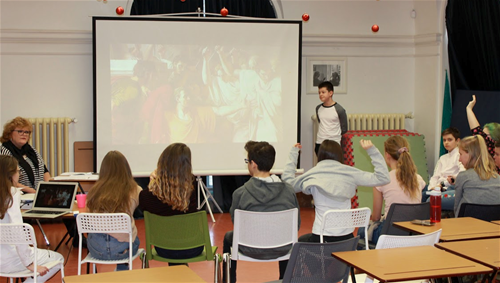 English Speaking Board (International)'s centres come in all shapes and sizes, from all over the world, but it's not often we find ESB assessments taking place underneath a castle.
Park Lane International School in Prague is unique as it stands tucked away beneath the walls of the city's breathtaking castle, close to the historic Old Town.
ESB Assessor, Julia Ward flew out to the Czech Republic to assess the learners, and was blown away by the talent and dedication shown by the youngsters in their presentations and poetry recitals.
Says Julia,
It was a delight to see the pupils carry out their ESB assessments with such confidence and skill, as well as hearing how much they enjoyed the experience afterwards!
Siobhan Woodruff, English Teacher at the school says,
Prior to the examination, the pupils were a bundle of nerves, but nobody would have believed that they were nervous when watching the actual presentations – they looked and sounded like supremely confident young adults.
Please click here to see Park Lane International School's website.