English Speaking Board pioneers new Debating qualification
Oct 1, 2015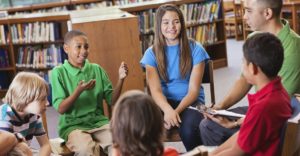 English Speaking Board (International) Ltd. has produced the first ever accredited qualification in debating.
Awards in Debating are aimed at 10 to 18-year-olds and are designed to give youngsters an opportunity to improve their debating skills and endorse their talent for public speaking.
Alison Coates, ESB's Speech Business Development Advisor, who developed the suite of qualifications in conjunction with schools, said:
We are very proud to be the first awarding organisation to offer a qualification in this essential expertise. It's an excellent time to introduce the qualification as there's such an emphasis on debate in the National Curriculum.

Debating is an essential life skill and a fantastic aid to developing soft skills such as critical thinking, teamwork and leadership. We are excited to have developed a qualification suitable for candidates working at a variety of different levels in a diversity of educational contexts.
The candidates will be examined in groups of eight: four in favour of the motion and four against. As with all of ESB's Speaking and Listening assessments, the Awards in Debating will be assessed externally.  Experienced assessors will take into account content, style, structure, listening and response.
ESB worked in conjunction with various education centres to create the Awards in Debating including Ibstock Place School in Roehampton.
Kevin Darlington, English teacher at Ibstock Place said,
ESB's Awards in Debating are a groundbreaking set of qualifications. I would highly recommend them to any school looking to increase attainment in speaking and listening and to boost pupils' confidence in public speaking.
If you would like to find out more about ESB's Awards in Debating then have a look at the syllabuses at Level 1, Level 2 and Level 3.