ESB Learners Celebrate Success
Oct 18, 2019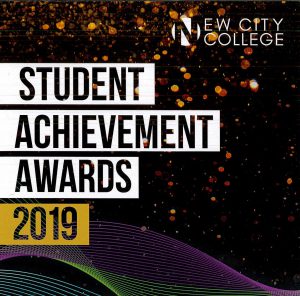 New City College in East London recently held its annual Student Achievement Awards Ceremony in recognition of the success of its high achieving students.
From the 30 awards given out on the evening, two English Speaking Board (International) students were presented with awards. Ibrahim Kintu was awarded Young ESOL Student of the Year and Cristian Paredes received the Adult ESOL Student of the Year award. They both completed ESB's Entry Level Award in ESOL Skills for Life (Speaking and Listening) assessment.
Attending the celebrations, at the Leonardo Royal London City Hotel, were BBC news presenter Ashley John-Baptiste, ESB's Chief Executive, Tina Renshaw and ESB's Business Development Advisor, Jackie Johnson.
Says Tina,
"We were honoured to celebrate the achievements of these two exceptional students. ESOL Skills for Life qualifications are designed for those who live, study or work in the UK. Many have to overcome obstacles to become successful so it's always a privilege to hear about these success stories. They should be very proud of themselves!"