ESB workshops make successful entrepreneurs
Mar 1, 2015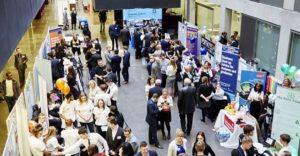 Enterprising students from Liverpool John Moores University beat over 100 undergraduate companies from across the North West to be crowned the Young Enterprise North West Start Up Company of the Year.
The overall winners, six Second Year Business & PR students, had taken part in an ESB Presentation Skills Workshop as part of their preparation for the event. ESB were also delighted to see the Student of the Year, Best Presentation and Winning Finalist had all benefitted from ESB workshops.
15 student companies, whittled down from over 100, represented 8 North West universities and colleges to compete at the event, hosted at Manchester Metropolitan University's state of the art Business School.  The undergraduates have taken part in the Young Enterprise scheme, which encourages them to set up and run their own businesses for a year, with the help of business mentors and industry led skills workshops, including ESB.
Over 1000 North West students have taken part in the project since September 2014 from institutes including; University of Liverpool, Manchester Metropolitan University and University of Central Lancashire. Currently, ESB works with Liverpool John Moores University, Edge Hill University and University of Chester.
Andy Firr, Young Enterprise Start Up Manager explained:
The impact made by the ESB's involvement in the Young Enterprise Start Up Programme this year cannot be underestimated. Bringing sector specific industry specialists into the lecture room has a lasting and positive influence on the undergraduates we work with. The sessions led by ESB partners have all been well planned, resourced and delivered. We are really grateful for the support and would love the opportunity to continue our partnership in 2015/16.