In Memory of Jocelyn Bell, ESB International's Honorary President
Jan 17, 2020

It is with great sadness that we learn of the passing of ESB International's co-founder and Honorary President, Jocelyn Bell.
Jocelyn was involved with English Speaking Board (International) Ltd. (ESB) from its inception and remained involved with the organisation, its philosophy and practices, almost up to the time of her passing.
ESB International was formed in 1953, by Christabel Burniston, aided by Jocelyn, Christabel's professional colleague. Jocelyn and Christabel shared the same educationalist's vision that true development of personality, and security in social relationships, could only grow through the confidence of speaking and listening. Jocelyn worked closely with Christabel on several projects to promote the organisation and pioneer a radical new approach to oral skills and communication.
Jocelyn believed that assessments should provide sympathetic environments where young people and adults could be encouraged to share interests, achievements and ideas.
In the 1960's, ESB International became English Speaking Board (International) Ltd. as it extended its influence overseas. Jocelyn, together with Christabel, successfully took the organisation's philosophy to New Zealand, Australia, South Africa, Malta and Canada.
In addition, Jocelyn was instrumental in writing numerous books in collaboration with Christabel. These publications include 'Rhymes with Reasons' and, 'Into the Life of Things: An exploration of language through verbal dynamics'.
Before going into teaching, Jocelyn trained under the great Elsie Fogerty who founded The Central School of Speech Training and Dramatic Art in The Royal Albert Hall in 1906. In 1957, it was established in The Embassy Theatre, Swiss Cottage and later recognised as The Royal Central School of Speech and Drama. Jocelyn developed Fogerty's approach to what was then called 'voice and diction' or 'elocution' where the focus was entirely on the mouth and naval cavity. Fogerty included the lungs in her teaching and further included the importance of the whole body. Jocelyn called this revolutionary approach to the teaching of voice production 'verbal dynamics'.
As part of their vision, Jocelyn and Christabel abandoned the word elocution and the manicured constraints imposed on rich regional accents and class identity. In their book, 'Into the Life of Things', they wrote that "the voice and words at a physical level are infinitely complicated movement sequences and that the voice sound movement encapsulates each individual's essence and who we are".
Jocelyn was also a qualified as a librarian and studied at The Rose Bruford school of Speech and Drama. She was an actor in The Sheffield Repertory Company and appeared on stage with Rachel Kempson and the great Alec Clunes. She gave up her professional acting career in order to look after her sick father, who lived near Nottingham. She later joined the war effort in an arms factory. Being an only child with elderly parents, her childhood was solitary. She hated school, particularly games which she avoided by climbing up a tree and reading. She loved Shakespeare and read every book written about him. In later years she studied theosophy, astrology and practiced yoga.
Christabel's daughter, Elizabeth Macfarlane, says:
"Jocelyn's steadfast sense of loyalty and dedication to her friend and colleague Christabel Burniston and to the importance of the English Speaking Board was an anchor and inspiration to us all".
ESB International's Chair, Pippa Quarrell, says:
"Jo was there from the start when Christabel first announced her idea about starting an Awarding Organisation to assess Spoken English. She worked as an assessor for several years before setting up the formal recruitment and training procedures for ESB assessors.
"As the first Examination Training Officer, her input was invaluable in creating a forward-thinking, professional organisation. After 10 years, she moved into the role of ESB's Honorary Vice-President and then into the role of Honorary President in 2007.
"Without Jocelyn's ground-breaking and intuitive ideas, her relentless energy for excellence and her great love of teaching, ESB would not be the same as it is today. Her passion to promote clear communication and to recognise the potential of all is still the mainstay of our wonderful organisation. ESB International will be forever grateful for Jocelyn's dedication and commitment shown over many years to learners all around the world."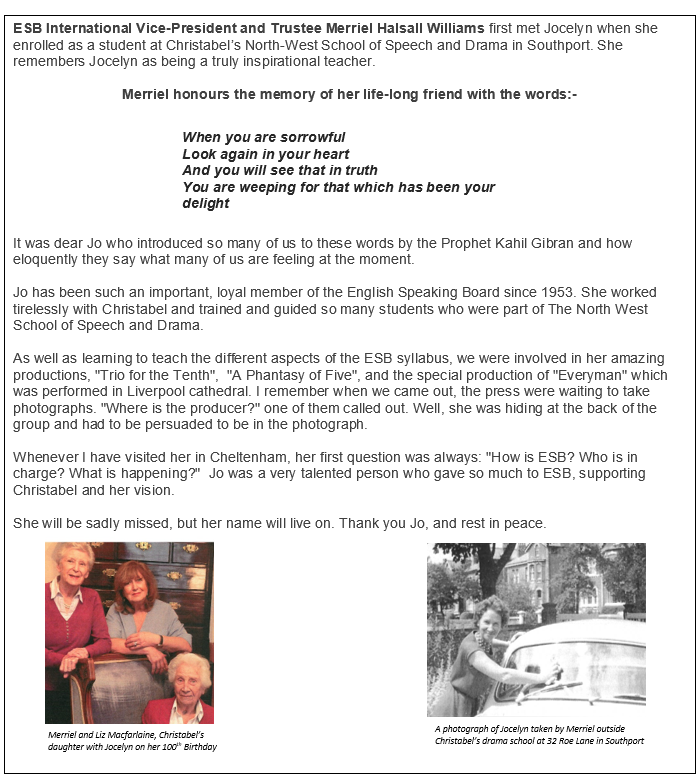 ESB International's Chief Executive Tina Renshaw, was instrumental in creating a special award to commemorate the work of both Christabel and Jocelyn. She says:
"Each year, the Burniston Bell Award recognises the exceptional work of ESB teachers who are keeping Christabel and Jocelyn's vision alive today. The award ensures their legacy continues to live on.
"From small beginnings, ESB continues to grow. 2023 will see the 70th anniversary of ESB so we are announcing a significant outreach campaign to honour that milestone. ESB International hopes to financially support each year until 2023, 70 organisations from the third sector and the education sector by committing funding up to £70,000. We want to reach out to community groups, charities, schools and colleges where their learners and communities are facing disadvantage that prevents them from developing those oracy and language skills to which ESB is dedicated.
"This 70/70/70 campaign is part of our purpose to stretch the most able and support the least confident and realise the potential of all by closing the disadvantage gap. There could be no better way to honour the memory of both Jocelyn and Christabel than reaching out and literally investing in our future. The huge impact their work and leadership has had within the organisation will always be remembered."


The Christabel Burniston Fund
Established in honour of our founders, the Christabel Burniston Fund provides support to centres which might not otherwise be able to access assessments.
At ESB we are committed to ensuring our qualifications are accessible to every learner, and we are always looking to identify new ways of helping our centres get the most out of our qualifications.
If you wish to make a donation to the fund, please contact our Business Development Manager, mark.wynne@esbuk.org.