In the spotlight: Epsom College Malaysia
May 1, 2016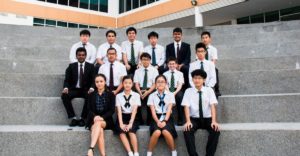 Hundreds of schools, colleges, training centres, universities and prisons deliver ESB qualifications every year. We want to highlight the incredible work our centres do by putting them 'In the Spotlight' on our website. The centre we are going to feature this month is Epsom College in Malaysia.
An international boarding school for students from ages 3-18 based near Kuala Lumpur, Epsom College in Malaysia runs the English National Curriculum, GCSEs and A levels. Head of Drama, Sophie Hill told us more:
Epsom College in Malaysia is the 'little sister' of Epsom College UK and was founded by old Epsomiams including Tony Fernandes. Opened in September 2014, the College now hosts pupils from the UK, America, Japan, Thailand, Indonesia, Singapore, South Korea as well as Malaysia itself.
The prestigious organisation has been working with ESB for two years and teachers have been really impressed with the results. Sophie said:
As the only centre in Malaysia to offer ESB qualifications, this represents a significant investment by the College to subsidise the cost of bringing an examiner out here but, for the second year running, we feel it is well worth the investment due to the significant benefits to our students.

Those who take part rapidly gain in confidence and develop a range of skills vital for the world of work and for the higher levels in the college. Students who participate are able to extend their skills in public speaking, performance, memorisation and research which benefits them right across the curriculum and beyond.
The department has now decided to extend its ESB portfolio to include EAL qualifications. Sophie explained how this is integrated into Epsom's Academic English Programme:
We offer a one year language focused course which offers biweekly speech and drama lessons focused on the skills and language confidence assessed in the ESB EAL qualifications and this is supported by the specialist EAL teachers.

As our first year entering EAL candidates, we are hugely proud of the achievements so far. Probably one of the best examples of this is Arata Mabuchi who arrived at the College in September with almost no English and low confidence. His achievement of a Distinction in March represents a huge rate of progress for this student.
Sophie added:
Seeing the students work towards ambitious performance challenges has been incredibly rewarding and the growth in confidence from their successes has really paid off for us.