It's a boy! ESB baby arrives just after Mum's successful assessment!
Mar 20, 2019

Hilay Mohamad has to be one of ESB's most dedicated learners – after going into labour during her assessment!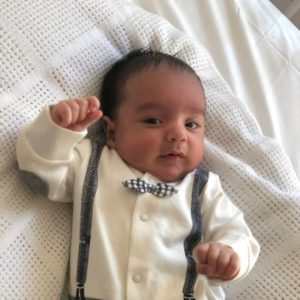 When Hilay arrived at North London's Stanmore College to begin her ESOL Skills for Life Entry 3 Award assessment, she gave no indication to Assessor Nicola Rose that she would be swept off to hospital to give birth as soon as her 29 minutes of assessment time were up.
Said Nicola, "Hilay was a shining example of a dedicated ESB learner.  She spoke clearly and accurately in her assessment, despite the fact of her baby's imminent arrival! Her composure and tenacity were truly inspiring and I'm delighted to say that she also passed her assessment with full marks. A successful day all round!"
As soon as her assessment was over, Hilay and her husband Ibrahim rushed to Barnet Hospital to prepare for the birth of Abubakar Mohamed. Hilay says,
I was nervous doing my assessment because I knew that I did not have much time! I'm very happy that Abubakar was born in excellent health and I passed my Entry 3 qualification!
ESB sends its congratulations to both Hilay and Ibraham Mohamed on their new addition to the family.