ESB Learners celebrate success!
Oct 8, 2021
ESB learners' achievements were honoured at a recent Awards ceremony!
New City College in East London held its annual Student Achievement Awards Ceremony in recognition of the success of its high achieving students.
Five awe-inspiring learners were each presented with awards, including Adult ESOL Student of the Year, Young ESOL Student of the Year and the Ray Wilkinson Award for Outstanding contribution to the Community after completing ESB's ESOL Skills for Life assessments. ESB's Product Development Manager, Anthea Wilson, was delighted to be in attendance to witness the event.
Also joining the celebrations was special guest, former New City College student, Charles Babalola, who was responsible for presenting the awards. Having received the Alan Bates Award for graduating actors, Charles is best known for the films The Legend of Tarzan, Mary Magdalene, and the latest, Gretel & Hanzel. 
Receiving accolades were the following ESB learners:

Adult ESOL Student of the Year Award: Nielti Gebre
Young ESOL Student of the Year Award: Yousif Burhan
Ray Wilkinson Award for Outstanding Contribution to the Community: Francia Rafalason, Francois Rafalason and Luis Main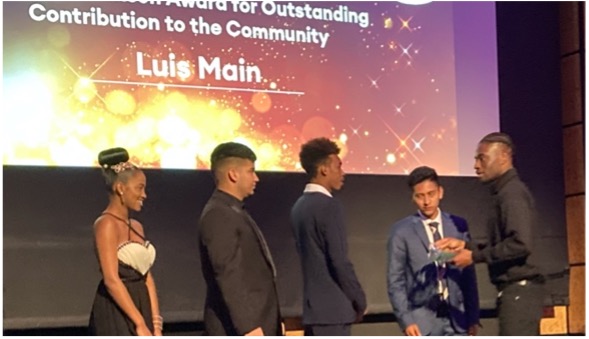 Says Anthea, "I was honoured to celebrate the achievements of these exceptional ESB ESOL learners. It was fantastic to see so many inspiring young people being recognised for overcoming challenges through their hard work and resilience. Congratulations to all learners!"
ESB's Chief Executive, Tina Renshaw, adds, "We feel very privileged to celebrate the achievements of these students. ESOL Skills for Life are qualifications designed for those who live study or work in the UK and we recognise the incredible obstacles some student have to overcome to become successful. They should be very proud of themselves!"

ESB's ESOL assessments facilitate language development to help learners obtain the vital skills that support engagement in daily life activities, develop further learning and independence, and gain or progress to meaningful and sustainable employment. Its assessments enable learners to become competent in core language skills; reading, writing and speaking and listening.

For further information about our ESOL Skills for Life assessments, please click here. Alternatively, if you still have unanswered questions or you would like to become an ESB centre, please contact our Business Development Team. We'd love to hear from you.

Let the ESB experience enrich your learners' lives and give them the opportunity to shine!