ESB reaches more learners facing disadvantage!
Dec 15, 2021

As part of its 70/70 Campaign, ESB is supporting learners at Staffordshire's St Margaret Ward Catholic Academy to boost their oracy skills by enabling them access to its Level 3 Certificate in Speech (Grade 6) assessments.

With many learners at the school facing disadvantage due to socio economic factors and migration status, ESB aims to equip these learners with the communication skills they need in order to achieve their aspirations.

Says ESB Organiser at St Margaret Ward, Mary Yates, "We, at St Margaret Ward, are always so impressed with the impact that ESB assessments have on developing our students' self-confidence. Public speaking is not a skill many of our students come to naturally, so it is always a pleasure to witness their oratory skills progress as they practise for the assessment.

"Watching their sheer relief turn into pride upon receiving their results, only further solidifies the importance of this certification."

ESB Assessor, Louise Fox, said, "I received a very warm welcome at St Margaret Ward Catholic Academy. It's a delightful school and the children were all keen and receptive. They had prepared super presentations and visual aids. Feedback received after the examinations was positive and encouraging, the children had clearly benefitted and developed their confidence due to this opportunity. Well done!!"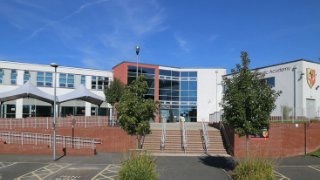 ESB's Chief Executive, Tina Renshaw adds, "Here at ESB, we are steadfast in our determination to support as many disadvantaged groups as possible from the charity and community sectors, as well as educational centres and we are passionate to help close the disadvantage gap, as demonstrated by our 70/70 Campaign. I'm thrilled that our initiative has enabled learners at St Margaret Ward to complete our assessments, unlocking their potential and raising their achievement."
St Margaret Ward Catholic Academy is just one of the schools that is using ESB to help its learners to develop essential life skills, but ESB would like to help many more.
If you believe your learners or young people would benefit from an Oracy journey which includes ESB assessments, we would love to hear from you! Once you contact us you can also find out whether your centre is eligible for funding and support. Please email business@esbuk.org. For further details about our 70/70 Campaign, please click here.